The Kelso Building Department issues permits for all new construction within the Kelso city limits.  This involves the detailed examination of building plans, calculations, and specifications for compliance with building, plumbing and mechanical codes, as well as, field inspections of all aspects of construction and its various component parts and systems.
Permits are required to construct, enlarge, alter, repair, move, or demolish a building or structure; change the use of a building; or erect, install, enlarge, alter, repair, remove, convert or replace any electrical, gas, mechanical or plumbing system.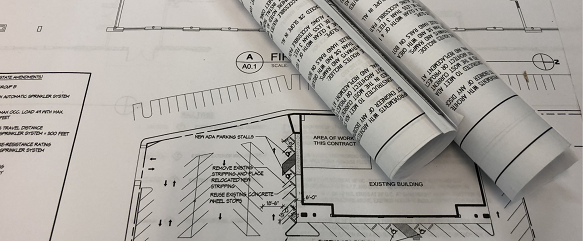 The City of Kelso does not issue electrical permits.  For electrical permits and electrical inspections, contact WA State Department of Labor and Industries at (360) 575-6900 or www.lni.wa.gov/.
All fire, life, and safety permitting is submitted to and issued through Kelso's Building Department.  Cowlitz 2 Fire & Rescue conducts the city's fire related plan reviews.  For specific fire code questions, contact Cowlitz 2 Fire & Rescue at (360) 578-5218 or visit http://c2fr.org/.
Contractors are required to have a valid Washington State Contractor's License and Kelso Business License.  For business license questions, contact Kelso Finance at (360) 423-0900.
Permit fees can be located in the city's Master Fee Schedule.
Kelso Municipal Code - Codification of the general ordinances of the City of Kelso.
Location:  Kelso City Hall, Second Floor, 203 S. Pacific Ave., Kelso, WA  98626
Phone:  (360) 423-9922
Fax:  (360) 423-6591
Email:  building@kelso.gov
For general building and planning information, a department receptionist is available Monday through Friday, 9:00 am to 5:00 pm.

Permit application intake and permit issuance hours are Monday through Friday, 9:00 am to 4:30 pm.
Several of the over-the-counter permits are now available online through our portal, including:
Reroof, Water Heater, Gas Piping, Fireplace Insert, Furnace, Heat Pump, Ductless Heat Pump.
What can you do on this portal?
Apply for a Permit
Pay permit fees 
Please read this information before proceeding:
The Applications button allows you to apply for permits, view all of your recent permits to determine their status, and schedule inspections. Be sure to read the Refund Polcy and Privacy Policy below before use.
The Contact Us button allows you to request information or report a concern. Both sides of this portal will require you to create an account however, if you choose, you may remain anonyomous when reporting a concern. Just note that we do not follow up with the complaintant if you wish to remain anonymous. 
The Contact Us button does not take the place of a request for public information. If it is your intent to request public information, you will need to contact the City Clerk's office. Questions submitted at this portal will only be available to Community Development. All other City Departments must be contacted directly. This method of contacting us should only be used for general questions and non emergency items regarding building, zoning. or engineering.   
Click on the button below for Online Permitting. 

The City's Building Department provides inspection services for sign and demolition permits, as well as, residential and commercial inspections of mechanical, plumbing and building permits.
Inspections are conducted Monday through Thursday, 10:00 am to noon.
No inspections will be conducted on Fridays.
Inspection requests must be received by 4:30 pm for next day inspections.
Final inspection requests require 48 hours notification.
To schedule inspections, please call (360) 423-9922.
The complexity and completeness of all plans will affect the review time of construction projects.  For new construction projects east of Interstate 5, a current geotechnical report will be required at time of plan submittal.
Use the Building Permit Application for the following:
| | |
| --- | --- |
| New Construction | Addition |
| Garage | Shed / Accessory Building |
| Carport / Patio Cover | Deck / Ramp |
| Remodel / Tenant Improvement | Manufactured Home |
| Foundation Only | Reroof |
| Fire / Life Safety (Alarm System, Panel, etc.) |   |
We are currently in the process of updating and creating additional forms.  If you do not see what you are looking for, please feel free to contact our office.